Mercan Recruit Ltd. – Your bridge to Canada and Beyond
The Mercan Recruit Advantage
We – Mercan Recruit – are a renowned leader in the field of foreign recruitment and placement, providing comprehensive and customized employment solutions to large and small business owners, Human Resource professionals and overseas workers.

Service Excellence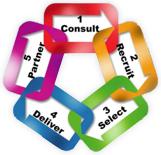 We have the experience and good reputation in the industry. The organization specializes in providing recruitment services to the key sectors of the economy. These sectors include the Healthcare, Hospitality, Trucking, Construction, and Engineering industries. We also have the resources and capabilities to ensure that all our client's requirements are met.
We are a customer-focused professional organization comprised of highly skilled, trained and experienced consultants, evaluators and staff, facilitating our recruitment and placement services.
We are dedicated to providing each of our clients with the best services. Evidence of Mercan Recruit's professional standing can be found in our memberships such as the Canadian Restaurant and Food Services Association (CRFA) and the Alberta Hotels and Lodging Association (AHLA).